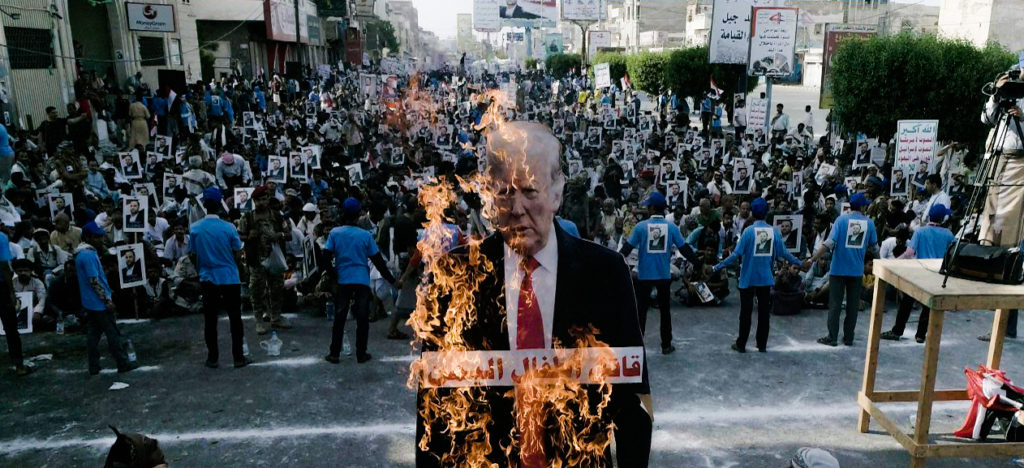 Tens of thousands of Yemenis held demonstrations throughout the country to condemn Trump's veto of a U.S. congressional resolution directing "the removal of United States Armed Forc-es from hostilities in the Republic of Yemen that have not been authorized by Congress." Protesters denounced the United States for continuing to support the Saudi-led war and blockade against their country.
Advocacy for the Yemen War Powers resolution—which has been led by Yemeni-American groups—has spread awareness of the criminal war on the people of Yemen. The U.S./Saudi military campaign has resulted in the deaths of 15,250 civilians, including 3,527 children and 2,277 women, according to the Legal Center for Rights and Development in Yemen, a non-governmental organiza-tion monitoring human-rights violations. Many more have been wounded and suffer from a short-age of medical supplies and treatment due to the Saudi land, air, and sea blockade. Millions of Yeme-nis are on the brink of starvation.
On April 8, at least 14 schoolchildren were killed when a Saudi coalition air strike targeted resi-dential areas in Yemen's west-central province of Sana'a.
When Yemeni journalist Ahmed Abdulkareem asked one of the protesters in Sana'a to give a statement to the English speaking press, he replied, "My message is only to the American people: is spilling more Yemeni blood acceptable to you?"
More than ever, progressive people in the U.S. must stand with our Yemeni siblings to demand an end to the U.S./Saudi war on Yemen.